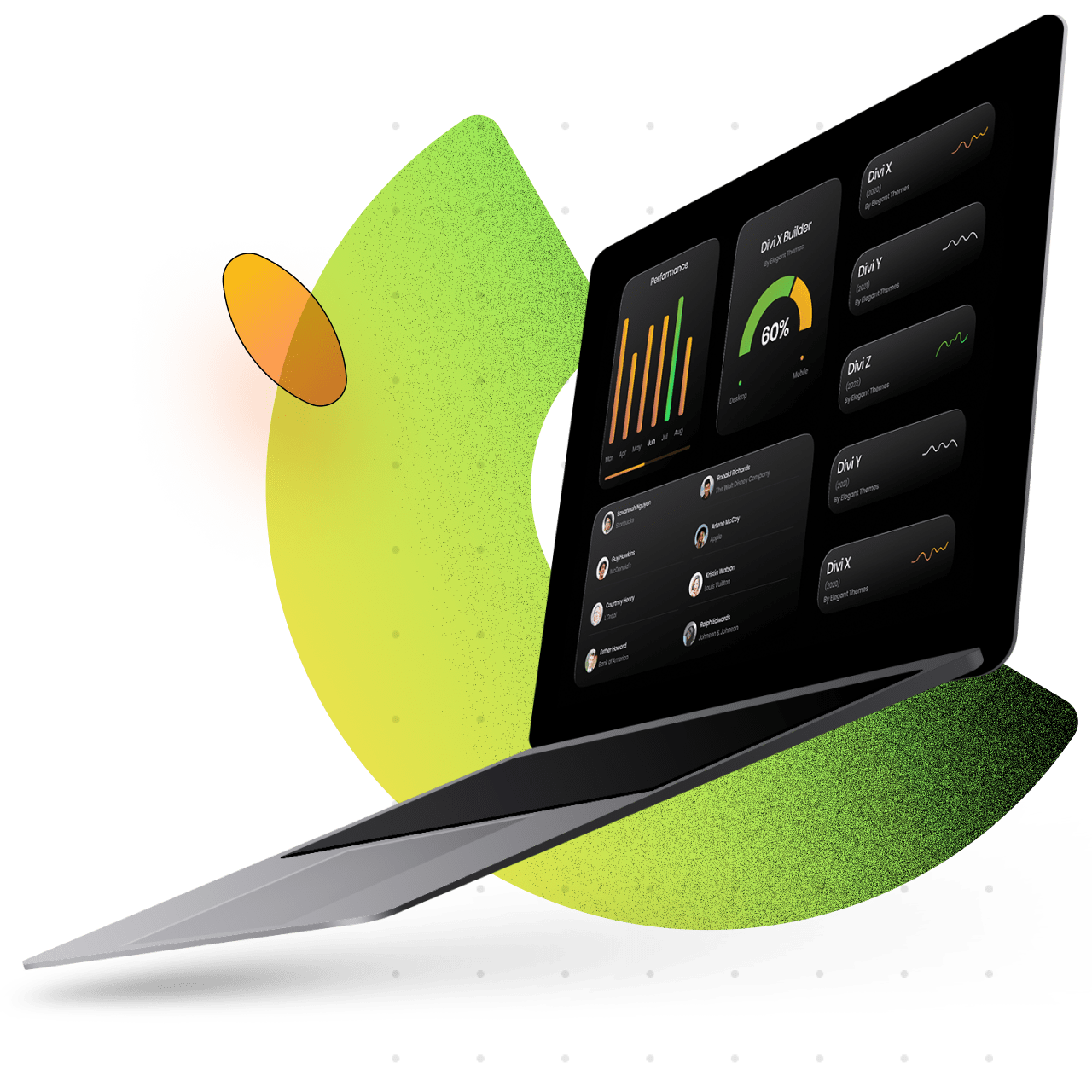 Sitemap Builder instantly generates an HTML sitemap for your Shopify store. All you have do is install our app and we'll do all the rest. Daily updates ensure your HTML sitemap is always up-to-date! We pull in new products and other shop content regularly onto your sitemap page. No design or coding knowledge necessary
This is the perfect way to list all of your products, collections, pages, and blogs in one spot.
This encourages shoppers to discover new products which can lead to higher checkout conversions. Allows customers to navigate all of your products which helps customers save time searching for products they are looking to buy.
Want to increase your Google ranking? Having an HTML sitemap for your Shopify store is one piece of the puzzle. Having an HTML sitemap can directly benefit your website's ranking by improving the accessibility and crawlability of your content, which can have positive effects on your SEO efforts. It's a simple way to make Google happy.
SEO Sitemap Builder is the best Shopify sitemap generator app
No Code. Works instantly.
Create a Store Sitemap In 1 Second
Increasing Your SEO Doesn't Have to Be Hard
Increase Your Google SEO Ranking
Submit Your XML Sitemap to Google Effortless Sitemap
Generator
Boost your Shopify store's SEO and enhance the shopping experience with our revolutionary app.
Let our app instantly create a sitemap for your Shopify store to ensure search engine crawlers easily discover and index all your product pages, collections, and essential content.
By providing a clear and organized roadmap of your website's structure, our app helps improve your site's visibility in search results, driving more organic traffic and potential customers to your store.
Additionally, a well-structured sitemap enhances the overall shopping experience for your visitors, allowing them to navigate through your product offerings seamlessly.
Don't miss out on the opportunity to maximize your store's potential – try our app today & unleash the power of effortlessly creating a sitemap for improved SEO.
Here's how the Ongoing Sitemap Builder app for Shopify creates an HTML sitemap for your store which contributes to your SEO.

Search engine bots use crawlers to navigate and index web pages. By providing an HTML sitemap, you offer a structured and organized overview of your website's pages, making it easier for search engine crawlers to discover and index your content. This ensures that your pages are included in search engine databases, potentially leading to increased visibility in search results.
An HTML sitemap often includes links to various pages within your website. These internal links help search engines understand the relationships between different pages on your site, which can improve the indexing and ranking of your content. Additionally, internal linking through an HTML sitemap can facilitate user navigation, making it easier for visitors to find the information they need.

User Experience & Engagement
A well-structured HTML sitemap can enhance the user experience by providing an organized and user-friendly overview of your website's content. When users can easily find what they're looking for, they are more likely to engage with your site, spend more time exploring your pages, and potentially share or link to your content. Positive user behavior signals like these can indirectly contribute to improved search rankings.
Websites with a large number of pages or complex structures may have content buried deep within the site hierarchy, making it harder for search engines to discover those pages. An HTML sitemap can provide direct links to these deep pages, ensuring they are accessible to search engine crawlers and more likely to be indexed.

Learn How to Submit an XML Sitemap
 While an HTML sitemap primarily benefits users, it can also complement an XML sitemap. XML sitemaps are specifically designed for search engines, listing all the URLs on your site. By linking your HTML sitemap to your XML sitemap, you provide search engines with an additional pathway to discover and index your content effectively.
Helps with Keyword Targeting
An HTML sitemap can be strategically designed to include targeted keywords within the anchor text of the links. By aligning these keywords with relevant pages, you can provide search engines with additional signals about the content and relevance of those pages. This can potentially contribute to improved keyword targeting and better rankings for specific search queries related to your website's offerings. In a nutshell: An HTML sitemap can also assist in using the right words people search for. By including those words in the links, it tells search engines what your pages are about. This helps your website appear higher in search results when people look for things related to what you offer. 

Enhanced Search Engine Optimization (SEO)
Search engines like Google use sitemaps to crawl and index websites effectively. By generating an HTML sitemap using your app, Shopify store owners can ensure that their store's pages, categories, and products are easily discoverable by search engines. This can lead to improved search engine rankings, increased organic traffic, and better visibility for the store.
Improved Customer Experience
A well-structured HTML sitemap serves as a navigational aid for website visitors. By installing your app, Shopify store owners can offer their customers an easy-to-use sitemap that provides a clear overview of the store's structure and content. This helps users quickly find the information they are looking for, reducing bounce rates and increasing overall user satisfaction. A sitemap helps create happy shoppers!
Faster Indexing of New Content
As a Shopify store owner, adding new products, categories, or pages is a regular part of managing the store. With the Sitemap Builder app, the HTML sitemap can be automatically updated whenever new content is added or existing content is modified. This ensures that search engines are promptly notified about the changes, allowing for faster indexing and visibility of the new or updated content in search results.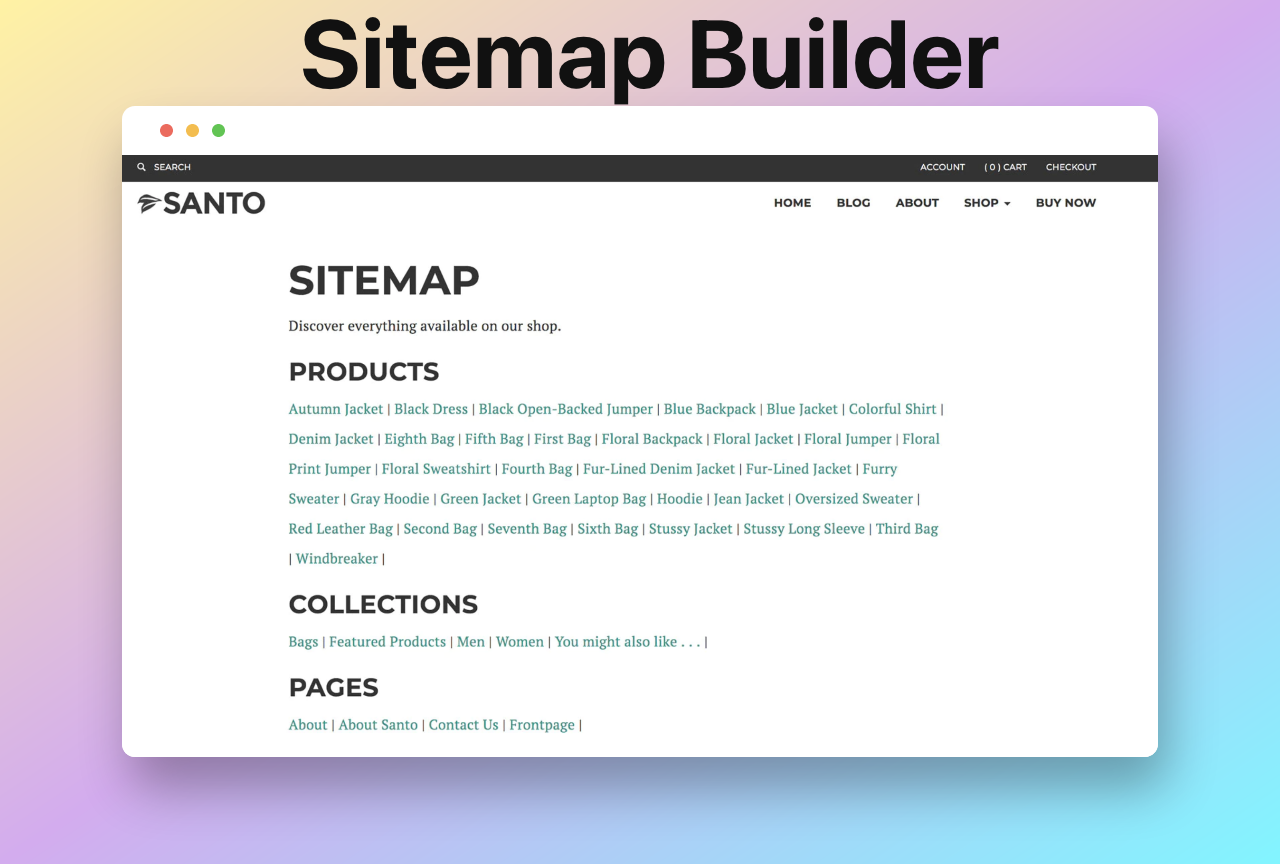 Boost your online success with SEO Sitemap Builder. Let's dive into the benefits.
#1 Improved SEO
Sitemap Builder helps search engines like Google find and understand your online store better. That means more people can discover your products and visit your site.
#2 More Visibility

Sitemap Builder improves your store's visibility in search results, putting you ahead of the competition. When shoppers search for products you offer, they'll see your store first!
#3 Easier Navigation
Our app ensures that your store is easy to navigate, like a clear map guiding visitors to their desired products. No more confusion!
#4 Boost Rankings
Finally, with our SEO Sitemap Builder, you can boost your rankings on search engines, making your store stand out and attract more customers.
Don't miss out on these incredible advantages – install our app today and watch your Shopify store soar to new heights!
 "Very simple and easy to use app. Customer support is superb!"
-Periwinkle Online
"Perfect! Plus the support is awesome & helped me very quickly."
-La Chic Boutique
"Great tool for seo. I appreciate this. Thank you very much!"
-Madera Ph
"Great app and awesome support! Adds value to a website and super easy to set up. Thanks guys."
-Road Tripic
Join 1,081k+ users & teams
SEO Sitemap Builder is the best Shopify app for creating a beautiful HTML sitemap.
✕
Shopify Success Newsletter
Don't miss out on the best tips and guides for Shopify sellers!