In this article, we'll show you the best Shopify apps of 2018 and explain how they can benefit your online business. With hundreds of apps to choose from on the Shopify app store, merchants are often overwhelmed by so many options.
Having the right Shopify apps installed on your store can really make a drastic difference.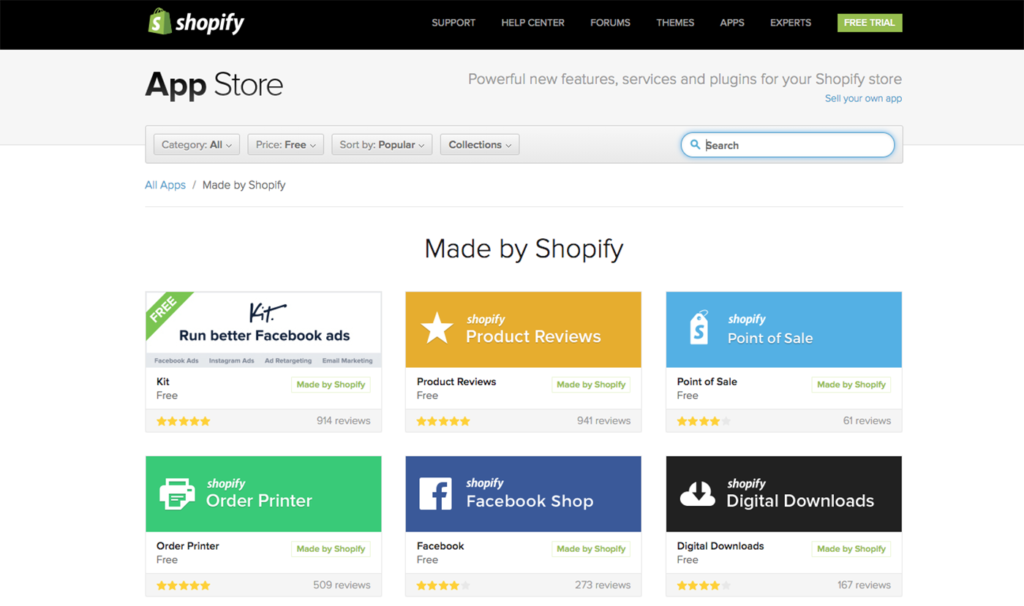 It can also help you save time and money on intensive tasks. Being able to click a button and get an app instantly is a much better option than hiring a programmer and having a custom app built for your store. Trying out new apps is all a part of the process.
Best Shopify Apps: A Roundup & Review
We've selected a handful of apps (a mix between free and paid) that we think can help grow and protect your store. We've chosen a wide range of apps that helps with accomplishing different tasks.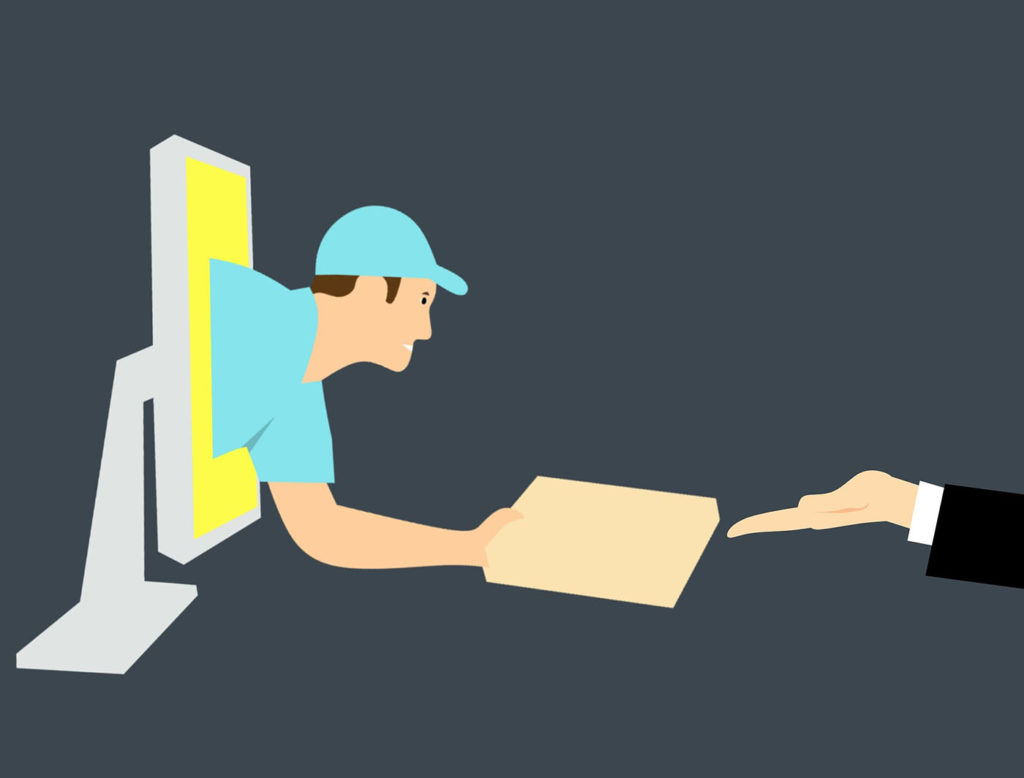 These top apps are useful for growing your SEO (search engine optimization), helping customers find products, increasing sales, protecting unique content, and printing invoices. 
We hope you enjoy our roundup of the best Shopify apps of 2018!
#1 Get Clicked! SEO
Our first pick for best Shopify apps of 2018 is Get Clicked! SEO. It's one the top rated SEO apps on the entire Shopify app store!
Does your online store have structured data? This app instantly creates structured data for your entire site which makes you eligible for "rich snippets" (enhanced search results). Rich snippets create eye-catching search results listings that include more information such as: a colorful star rating, pricing, availability, and many more product details.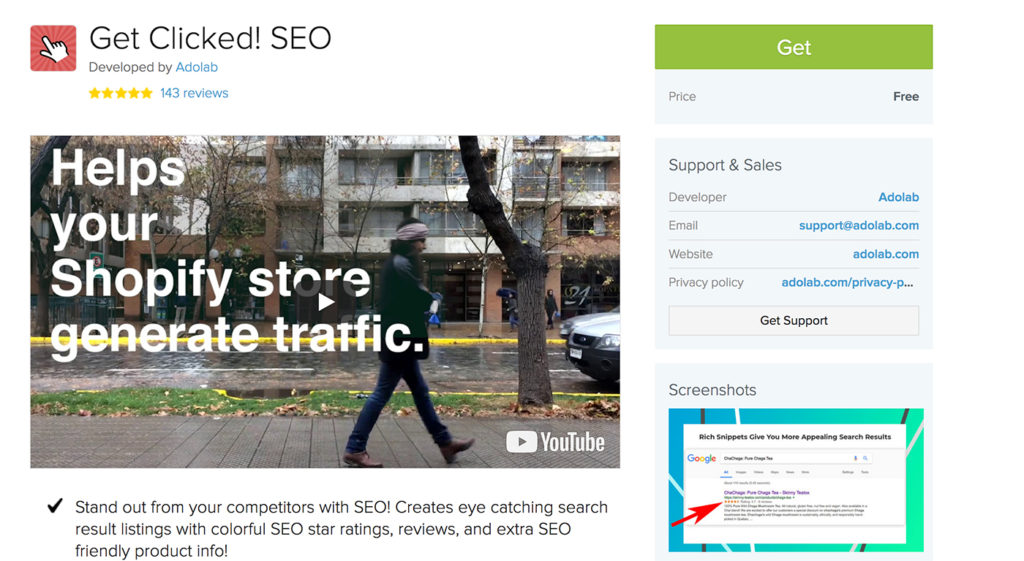 This app is designed to help you improve your SEO (search engine optimization). If you want to become more visible on search results, it's a good idea to start working to improve your SEO. Get Clicked has a helpful SEO scanner tool that detects problems with your website and offers simple D.I.Y. solutions to fix these issues.
Key features include a built in structured data testing tool, a mobile friendliness tester, and a page speed tester. Other features include the ability to edit ALT tags (great for Image SEO optimization), meta descriptions, page titles, and a lot more!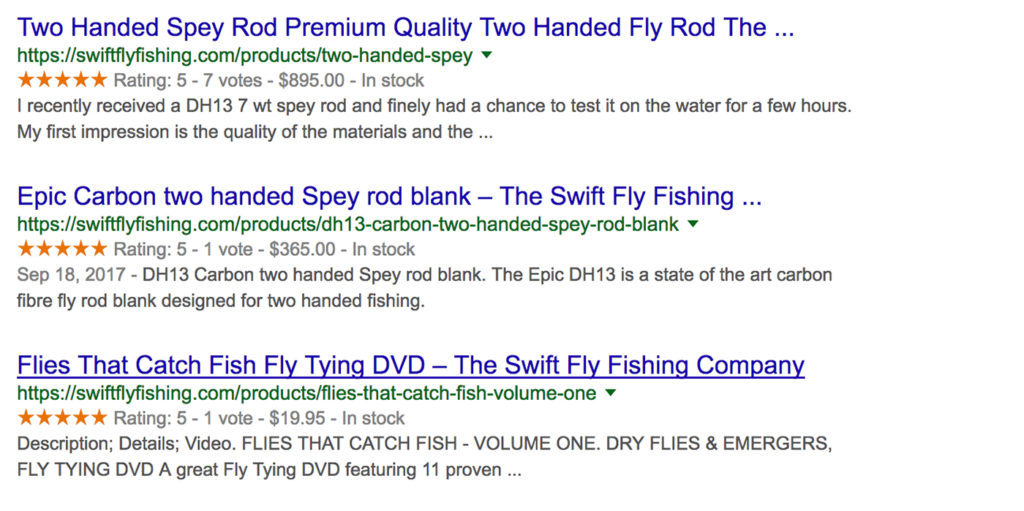 The Bottom-line: Totally perfect for beginners who know nothing about SEO. They'll teach you everything you need to know to get started with your SEO journey. The best thing about this app is that it includes a lot of educational videos and helpful tutorials that guide you through every step. We strongly believe this app will turn you into an SEO pro!
#2  SEO Sitemap Builder
Our second pick for best Shopify apps of 2018 is SEO Sitemap Builder.
Does your Shopify store have an HTML sitemap? If not, you might want to consider getting SEO Sitemap Builder which creates an HTML sitemap for your Shopify store in minutes.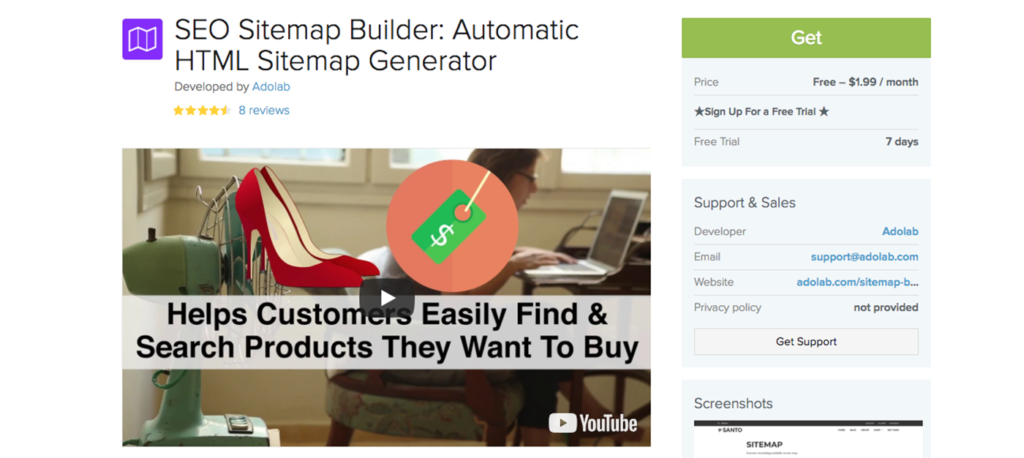 This helps increase the navigation of your store so that your customers can easily find what they are looking for. An HTML sitemap lists every product, collection, and blog article on your store with clickable links (for easy access).
It can help by lowering your bounce rate (retaining customers on your site which means it keeps them shopping longer).
Although Shopify supplies merchants with a free XML sitemap, this sitemap is not meant to be accessed or read by humans (it is strictly for search engines). A benefit of using this app is that an HTML sitemap is human readable.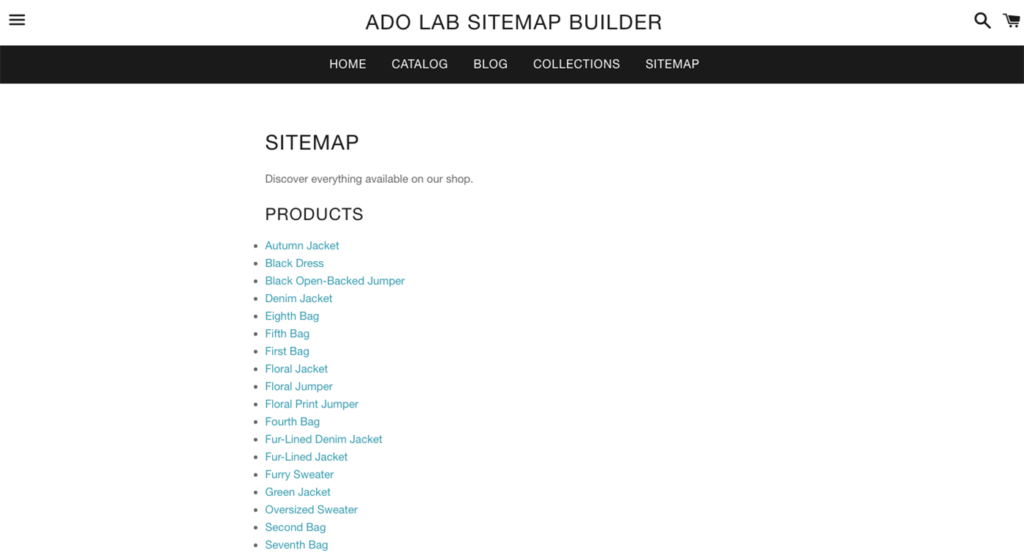 It can help to increase sales by encouraging customers to circulate more from product to product. It also help improve the shopping experience for your customers because they can find anything they are looking for in one convenient spot.
SEO Sitemap Builder is one of the best Shopify apps of 2018 because it helps to increase your store's overall SEO. The HTML sitemap produced by SEO Sitemap Builder can be crawled and indexed by Google which can help to increase your search ranking.
The Bottom-line: If you want to boost your SEO, this app is for you! It also provides an easy search landing page for your customers to navigate every item in your store
#3  Right Click Defender 
Our third pick for best Shopify apps of 2018 is Right Click Defender.
If you're concerned about having your original images stolen from your Shopify store, there is a solution! Right Click Defender is an app especially made to protect all images and text on your Shopify store.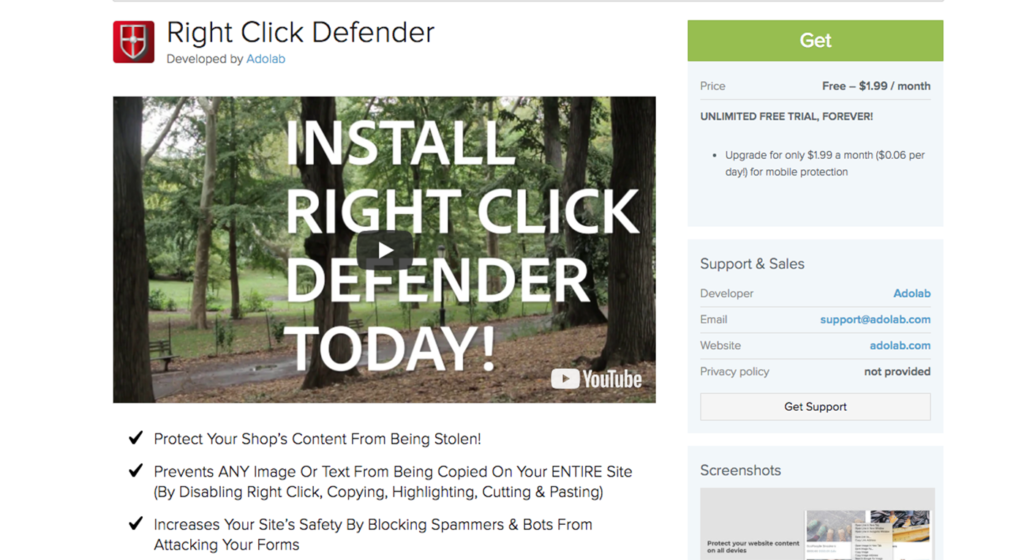 The way it works is by disabling right click so people can't save or  download your images to their desktop. It also prevents people from highlighting text which safeguards your original copywriting.
With so many ecommerce stores popping up everyday all around the world, it's a good idea to make sure your unique content is protected from content thieves.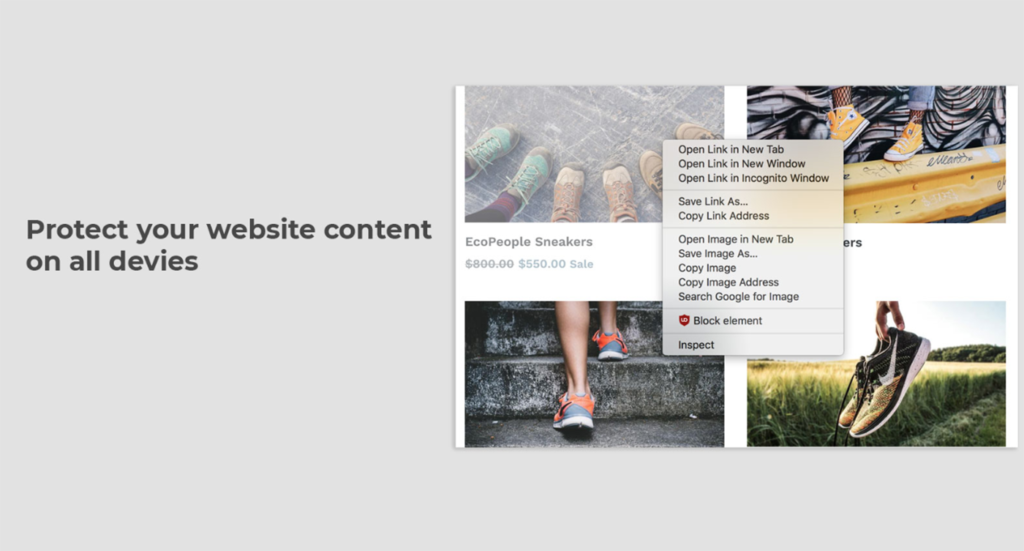 Right Click Defender creates a shield on every page of your Shopify store and blocks all attempts to copy your images and text. It also works around the clock, 24/7 so it can protect your store even while you're sleeping.
For more info, check out our guide to disabling right click on your Shopify store.
The Bottom-line: It's smart to guard your hard work. This app prevents copycats and imitators to pass off your images as their own.
#4  Pinterest 
Our fourth pick for best Shopify apps of 2018 is Pinterest.
Pinterest is one of the top social media platforms that encourages online shopping. Although it is mostly popular with women, it is quickly gaining traction with men as well. Pinterest also attracts users with a high disposable income which is an incredible plus.
The Pinterest app (made by Shopify) allows merchants to sell their goods directly on the platform with buyable pins.
The great thing about buyable pins is that they are also visible on mobile apps.
Most people who browse Pinterest are there to shop or create lists of things they want to buy later. Pinterest is the perfect place to market your online goods.
Another great feature of this app is that it  doesn't force the Pinterest user to leave the site to purchase an item. It allows the Pinterest user to remain on the site while purchasing an item (this is huge deal!)
In a recent case study, it was reported that buyable pins boosted traffic by 20-28%. Buyable pins help acquire new customers, are helpful in selling mid-range products ($45-170), and can increase mobile sales by as much as 20%!
The Bottom-line: If a Pinterest sees something they like, and it has a "Buy it" button right next to the picture, they will be more likely to purchase it.
#5

 

Order Printer
Our fifth pick for best Shopify apps of 2018 is Order Printer.
If you're running a Shopify store, than that means you're probably used to printing lots of invoices. This process can be aggravating for those who don't yet have a system down, but that's why Order Printer (made by Shopify) is here to help!
We love this app because it helps Shopify merchants easily create packing slips, receipts, labels, and invoices. The coolest feature is that you utilize bulk printing which allows you to print many documents all at once (for different orders).
It's recommended that you also use their Shopify Shipping app so that you can print up USPS (and Canada Post) shipping labels.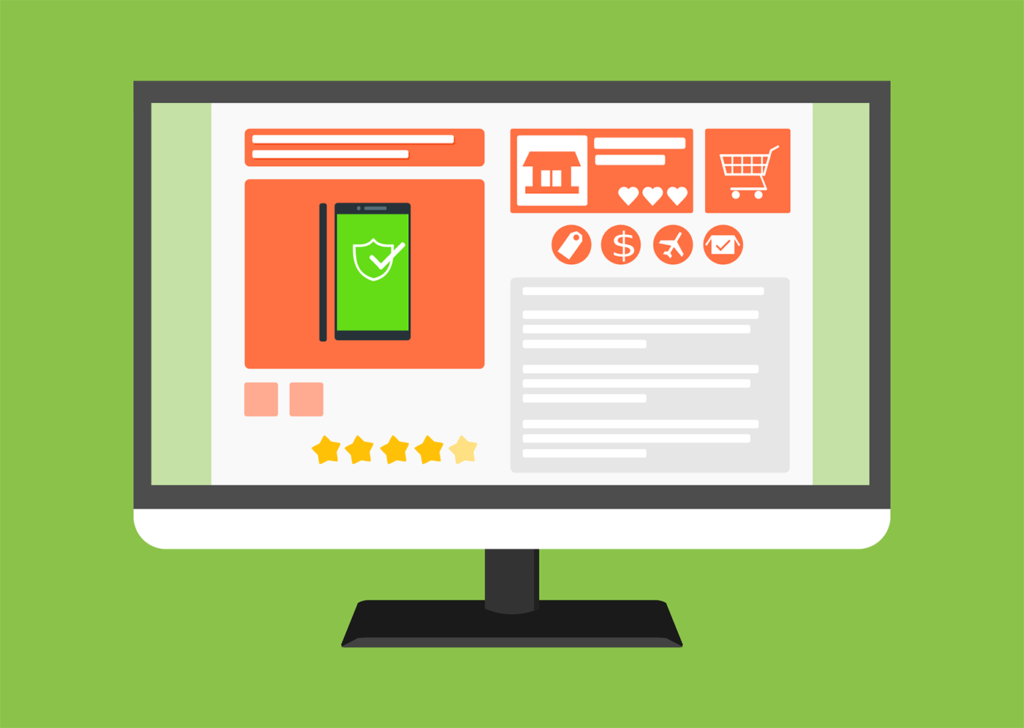 This app is recommended for sellers who are familiar with basic HTML in order to customize the templates. Keep in mind that there are pre-made HTML templates included with the app, so you don't have to do too much legwork.
The Bottom-line: This app is perfect if you're looking for a shipping label assistant because it's totally free and works relatively well without much setup.
#6  Product Reviews

  
Our sixth pick for best Shopify apps of 2018 is Product Reviews.
We love this app because it helps to increase your sales by showcasing customer reviews on the product page.
When a customer is browsing an item on your store, they can instantly see positive reviews that other customers have left about your product. This app helps to boost sales by increasing the buyer's confidence.
Positive reviews help encourage the shopper to add the product to their cart and complete their checkout. Product reviews are social proof that the product is dependable, satisfactory, and does what it says it does.
Another cool feature of this app is that matches your Shopify theme. The product reviews will appear with the same fonts and colors as your store.
Product reviews is one of the best Shopify apps out there because it helps increase your SEO.
By adding product reviews to your product page, this adds more information that Google can crawl. It helps to add a colorful star rating to your Google search results.
The Bottom-line: Having product reviews can really help convert customers! For more information on how you can improve your product page so you don't lose sales, check out our product page optimization guide.
Summary
Thanks so much for reading our article on the best Shopify apps of 2018. I hope that you'll try all of these apps out to see how they help improve your Shopify store.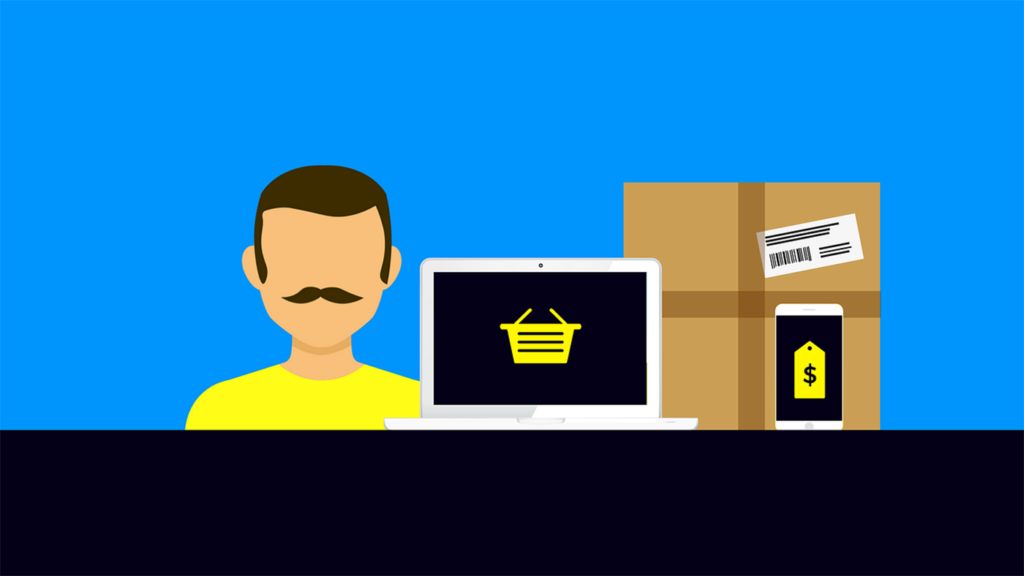 Make sure to be patient with yourself and give yourself the flexibility to discover possibilities. If you'd like to share your favorite Shopify app, make sure to leave a comment down below.
✕
Shopify Success Newsletter
Don't miss out on the best tips and guides for Shopify sellers!